So I must be one of those who believes in self torture!!! My calves have been killing me since I did the bleachers at school on Thursday...Yesturday they final started to ease up...so what do I go and do??? Oh yes, I went and did the bleachers at lunch today!!! I am insane!!! and this is what my head said I looked like...
Look at me running up and down the bleachers like a beauty queen!!! Of course we need to dye the hair but perfect body alignment and I even added hand weights!!! Woo Hoo!!! NOT!!!!!
This is what I looked like when I was done....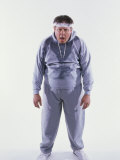 Oh yes, that is more like it!!! LOL!! It will kill my calves again, I know, but last time it took 15 min , this time it took 12:47 min...I could even feel a difference as I started...I don't know how often I will do this, but it is a good leg workout and it is a quick and fast work out....I don't have a ton of time to do it because after lunch (33 min) PE starts and I don't want to be out there while PE is going on NO THANK YOU!!! but 12 min of good heart rate movement in additon to whatever else I do tonight is a bonus in my book!!! Hubby keeps telling me I need to push myself...If I keep pushing myself and keep bringing my time on the bike or eliptical down and the distance farther then my body will keep getting stronger and the weight will continue to come off....He threatens me that he is going to hire Jillian Michaels to be my trainer because I love her, but only on TV....she would KILL ME!!! and make me cry for sure!!!! He says oh she would kick your A$$ and you would cry but think of how good you would feel when you were all done?? He is right, but for now, I wll stick to the self torture of the bleachers and save Jillian for when we are millionares!!! Hope you are all having a good Monday!!! Loads of love to you all!!